---
At the heart of the CTI system is a family of pocket-sized printed-circuit boards called "Train Brains". Train Brains are simple, yet versatile remote-control and sensing devices. Train Brains can be placed throughout your layout wherever you desire computer control.
The Train Brains' built-in sensors can be used to detect the location of trains anywhere on your pike. Their remote-controlled outputs can manage the operations of trains, switches, signals, sound units, lights, accessories, and much, much more.
The Train Brain's versatility lies in its onboard microprocessor, which allows each Train Brain to communicate with CTI's software running on your PC. Together, the pair form a powerful control system, able to tackle your railroad's most demanding remote-control needs.
Each Train Brain continually monitors its built-in sensors and sends their status to the PC. Armed with this information, CTI's powerful real-time control software determines the actions needed to run your layout. It then sends the appropriate control commands back to the Train Brain's controllers. This process is repeated automatically, many times each second.
The Train Brain couldn't be easier to use. Simply plug it in, using an ordinary phone cord, and the Train Brain is ready for action.

The Train-Brain is available in a variety of "models", allowing the user to tailor the CTI system to their railroad's particular needs. Train Brains modules can be combined in any way to best meet the needs of your model railroad.

"Train-Brain" Control Module Family
Train Brain Features:

Controllers:

4 10-Amp SPDT relays per board (original "Train-Brain")
8 10-Amp SPDT relays per board ("Dash-8")
16 2-Amp SPST transistor switches per board ("SwitchMan")
16 1-Amp SPDT transistor bridges ("YardMaster")

Sensors:

4 per board (original "Train Brain")
8 per board ("Watchman")
16 per board ("Sentry")
Magnetic, Infra-Red, Photocell, and Current Detection compatible
Monitored greater than 1000 times per second
We recommend that new users get started by trying out the original "Train-Brain". It's our most "general-purpose" module, and will get you familiar with both the control and sensing features of the CTI system. A Train Brain module, our powerful model railorad control software, interface cables, sensors, power supply, and complete instructions all come prepackaged in a convenient, cost saving "CTI Starter Kit" for $99 (see our "Catalog" page for details on how to order). It's a great way to get rolling in computer controlled model railroading.


---
CTI's Smart Cab Module complements the capabilities of the Train-Brain. Smart Cab is a fully automated, computer controlled throttle that interfaces to your PC. With Smart Cab, train speed, direction, momemtum, and braking can all be controlled by your computer.
Using Smart Cab, you can control your locomotives interactively using the "pop-up" throttle built into your CTI control panel display. Or while enroute, let the PC take over to control your trains automatically. Your trains can now change speed, start, and stop smoothly, all under computer control.
Smart Cab connects to your PC using the same control network as the Train-Brain. And the functions of the two modules are fully integrated. The Train-Brain's sensors can be used to automatically control the function of the Smart Cab.
CTI's integrated control approach makes running your layout easy. Your trains can respond prototypically to trackside signals, make station stops, follow scheduled timetables, perform complex switching operations, etc - without miles of complicated wiring. The whole job can be done automatically by your PC - and Smart Cab, of course !!!
Any number of Train-Brains and Smart-Cabs can be combined, in any way, to meet the needs of your model railroad. And, of course, as with all of our products, Smart Cab requires no changes to your locomotives.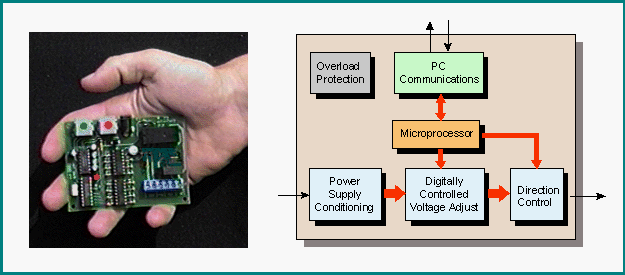 Smart Cab Control Module
Smart Cab Features:

Train Speed: PC controlled, linearly regulated
Output Power: 50 Watts maximum
Speed Resolution: 100 digital steps
Speed Range: User selectable
Direction: PC controlled
Momentum: PC controlled, variable acceleration
Braking: PC controlled
Circuit Protection: Onboard current limting, thermal shutdown included
---
Automated signaling is a natural candidate for computer control on model railroads, just as on real ones. The CTI systemís unique combination of sensing and control features make it easy to implement prototypical, fully automated, signaling operations on any model railroad. But with all those signal lights to control, cost has often limited the amount of automated signaling the average model railroader can afford.

Thatís why we introduced the "Signalman", the fast, easy, affordable way to implement computerized signaling. In contrast to the profusion of fixed-function signal control products on the market, the Signalman has been specifically designed to exploit the flexibility thatís available only through computer control. The Signalman can implement any signaling protocol, and works equally well with block, searchlight, and positional signals. Itís also great for use with grade crossings, traffic lights, warning beacons, airport runways, etc. Anywhere a signal light is required, the Signalman can do the job. It works with all signal technologies, including common-anode, common-cathode and bipolar LEDs, and incandescent bulbs.

This flexibility is what has allowed us to make signal control so affordable. Rather than build complex signaling logic using expensive, "hard-wired" electronic circuitry, all signaling decisions can now be centralized, and performed much more affordably, under computer control (just like on real railroads) by CTI's powerful control software.

Of course, as with all our modules, simply plug the Signalman anywhere into your existing CTI network, and itís ready for action. The Signalman is full of all the user-friendly features youíve come to expect from CTI, including a built-in regulated power supply for driving signals, a fully adjustable signal brightness control, onboard current limiting, and synthesized yellow for use with bi-color LEDs (with software controlled yellow tint adjust, of course).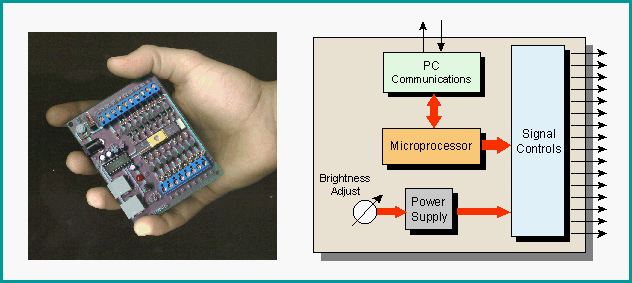 SignalMan Control Module
SignalMan Features:

Compatible with all commercial signals
Can implement any signaling protocol
Built-in signal brightness adjustment
Synthesized yellow tint adjust for bipolar LEDs
Each Signalman module controls up to 16 signal lamps
Onboard current limiting, overload protection
---
CTI takes the pain out of model railroad control.
---

info@cti-electronics.com

PO Box 9535 Baltimore, MD 21237

---
Copyright (c) 2021, CTI Electronics. All rights reserved.